In front of the epidemic, we are bounded together. To beat the epidemic, the effort of one person is not enough, but the combined strength of us all can fight it. It is already summer, after this "epidemic", we deeply feel that mankind is a community of common destiny. No one can stand by and stay away from the situation, to jointly "anti-epidemic" needs the help of each side.
Those who desire the same will win and those who share will flourish. Since the new corona virus is raging around the world at the beginning of the year 2020, how to quickly prevent and control it and overcome this severe global anti-epidemic battle together is a difficult problem facing all countries.Many IVD companies are obliged to devote themselves to the development and production of new coronavirus test kits (COVID 19).
If a man wants to do his best, he must first sharpen his weapon. Kinbio Techhas been focusing on the automation equipment and consumable materials required for the production in the rapid diagnosis industry. In order to solve the current problems faced by customers, we continually adjust and optimize each link and make every effort to deliver Kinbio's products to customers, which solved their urgent needs.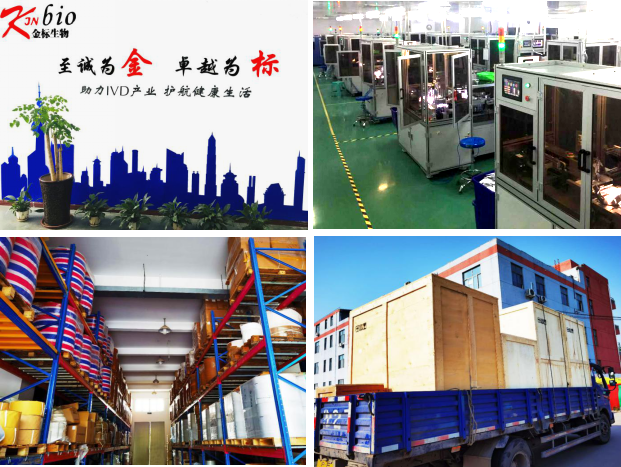 Recently, we have received rewards and support, all from our lovely and respectable customers. In order to ensure the prevention and control of the epidemic, and help to overcome the epidemic as soon as possible, they are committed to the development and production of new coronavirus test kits (COVID 19) day and night and sales promotion at domestic and overseas. In this cold moment when the epidemic is raging, all industries and each of us is facing a severe ordeal!
We are not alone, we fight together. We are encouraged to be able to stand firmly with our customers, perform due diligence, unite and collaborate, and bring together a strong joint effort to fight the epidemic. Thank you for moving forward with us on the fighting road. Let's help each other to fight against the epidemic!



INNOVITA BIOLOGICAL TECHNOLOGY CO., LTD.
Founded in 2006, it is a biotechnology joint company specializing in the research, development, production and sales of in vitro diagnostic products. It is composed of two companies, Beijing Innovita Biotechnology Co., Ltd. And Innovita (Tangshan) Biotechnology Co., Ltd. The company is committed to building China's leading brand of joint test of respiratory pathogens.
The launch of the new coronavirus (2019-nCoV) antibody test reagents will unite the company's joint test of respiratory pathogens to improve the diagnostic efficiency of new coronavirus infection pneumonia and fully serve the needs of epidemic prevention and control:
-On February 22, 2020, it officially passed the emergency approval of the National Medical Product Administration (NMPA) and was approved for the registration certificate: 20203400177, and become the first batch of new coronavirus antibody rapid test reagents officially approved for listing in China.
-On February 27, 2020, obtained the export sales certificate of medical equipment products.
-On March 1, 2020, with the help of the guiding team from central government to Hubei and other epidemic-stricken areas, 50,000 reagents were donated to support the people of Wuhan in fighting the COVID epidemic.
-On March 19, 2020, obtained the EU CE certification.
-On March 22, 2020, obtained the acceptation of the US FDA PEUA.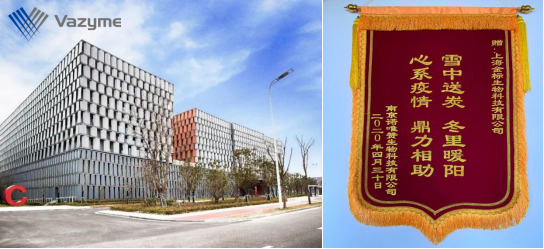 VAZYME BIOTECH CO., LTD.
Founded in 2012, it is one of the few high-tech enterprises in China that has independent research and development capabilities for key raw materials in biotechnology. It has developed into a technology platform company integrating life sciences, IVD, and R&D, production and sales of key common technology in the fields of biomedicine-enzymes, antigens, antibodies and terminal reagents.
Facing the COVID epidemic,Vazyme Biotech has made contributions to the fight against the COVID epidemic in China and the world with its outstanding R&D and innovation capabilities and rapid emergency response capabilities. On the one hand,Vazyme independently developed the core materials of new coronavirus nucleic acid detection reagents, and actively provides personalized products and services for global molecular diagnostic companies. On the other hand, the independently developed new coronavirus IgM/IgG antibody test kit by Vazyme (colloidal gold method) obtained the 3-type equipment registration certificate of the National Food and Drug Administration (registration certificate: National Machinery Note 20203400239) and many overseas countries certification (including EU CE, Singapore HSA, Philippine FDA, etc.), and quickly launched domestic and overseas large-scale sales. Recently, Vazyme has completed 550 million RMB of financing, continue to deepen the biotechnology platform and industrialization.



WUHAN ZHONGZHI BIOTECHNOLOGIES INC.
Founded in 2011, it is a medical equipment high-tech enterprise specializing in the research, development, production and sales of molecular biological test and clinical medical diagnostic new technology and new products. Successfully built a number of internationally advanced molecular test technology platforms, include multi-biotin signal amplification technology, double amplification technology, nucleic acid POCT rapid test technology, etc. It has developed series of product in the 3 main molecular diagnostics field of infectious diseases, genetic disease test, early tumor test, and they are constantly moving towards the goal of being a professional and first-class molecular diagnostics product supplier, and become a banner of China's molecular diagnostics industry.
During the epidemic period of new coronary pneumonia, Zhongzhi Biotech quickly launched the research, development, registration and application of new coronavirus nucleic acid test reagents. On March 31, 2020, it was officially awarded 2 product registration certificates of "New Coronavirus 2019-nCoV Nucleic Acid Test Kit (RNA Constant Temperature Amplification-Gold Probe Chromatography)" and "New Coronavirus 2019-nCoV Nucleic Acid Test Kit (dual amplification method)" issued by the National Drug Administration.
(Note: The ranking is in no particular order, subject to the date of certificate issuance)
In the long way of fighting epidemic
We sharpen our weapons for each other
And fight against the epidemic raging the world
To escort the health of the people
To be continued......